Chinese students are attending US colleges and universities in record numbers, and now a new group from the world's second-largest economy is in the classroom: teenagers in high schools, reports Michael Barris from New York.
First, it was colleges and universities in the United States. Now Chinese students have US middle schools and high schools in their sights.
While the number of Chinese students enrolled in US colleges and universities continues to rise, students from China are now seeking their education overseas at an even earlier age, and "Gaoshen" - the Chinese expression for "applying to an American high school" - is booming.
"Demand for US high schools is increasing exponentially," said Jian Sun, executive vice-president of Wisconsin International Academy, a center for Chinese exchange students. Sun said she sensed the trend talking with prospective students and their parents in China, which she visits several times a year.
The numbers support her claim. In the 2010-11 school year, nearly 24,000 high school-age Chinese were studying in the US, more than 15 percent of the total number of Chinese students in the US overall, up from virtually none five years ago. Meanwhile, US middle schools, also known as junior high schools, hosted 6,725 Chinese in 2011, up from just 65 in 2006, according to the US Department of Homeland Security. In New York City, 638 Chinese students with visas attended high school in 2012, up from 114 five years earlier, the department said.
The reasons
Various reasons are behind the migration to US middle schools and high schools: an urge to be part of a less rigid education system, the desire to gain an edge over other students from China for admission to a US university and a wish to avoid China's rigorous national university entrance examination.
Students from China "are looking for a good fit for their interests", said Sun, whose institution in Milwaukee, Wisconsin, helps high school students from China "adjust to life in the US and prepare for academic success".
If, for example, a student relocating to the US has artistic talent, "we will then find a (high) school with strong art programs", Sun said.
The US school system's emphasis on student-centered education is a beacon for students from China, especially those looking to fill US college applications with descriptions of "extracurricular activities" that admission officers are said to value highly.
"Freedom to choose their own courses is a big draw for studying in the US," Jeff Hayes, a teacher of Mandarin at Rockford High School in Michigan, said in an interview.
"Many students have personally told me that the Chinese education system is very rigidly structured and students have very little choice in class selection. China has slowly been changing its education system to give students some choice," he said.
Rockford High School, based in a Michigan city of the same name, will have five full-time students from China living with local host families arranged by the Rockford public school district when the school year starts Sept 3, Hayes said.
Sun agreed that students from China gravitate toward the opportunity to tailor their course load to their individual needs. For instance, he said, Pius XI High School, a private Catholic high school in Milwaukee and partner of Wisconsin International Academy, lets students choose from more than 100 courses. "None of the 900 students at Pius has exactly the same classes," Sun said. "Students can choose their most interesting courses as long as their core courses such as English, math and history are selected."
For many students from China, however, a key driver of their enrolment in a US high school is their parents' belief that doing so will give the student a leg up on the competition vying for a US-university study visa. The US State Department limits the number of visas issued to foreign students, "so the competition for visas is intense", Hayes said.
Sun said an estimated "20 percent to 30 percent" of Chinese students at Wisconsin International Academy attend a US high school at their parents' urging, ostensibly to gain an edge over other Chinese candidates in the competition for US university admission.
'Sea turtles'
Many students believe that having a US college diploma is a ticket to employment in China, but statistics contradict that view. The Wall Street Journal in March cited a report that found more than 70 percent of employers in China won't give preferential treatment to Chinese who return home after study abroad - a group known in Chinese as hai gui, or "sea turtles". Moreover, 8 percent say they actually prefer not to hire hai gui. Reasons for the cold shoulder include the hai gui's high salary expectations and lack of social connections, or guanxi, compared with their Chinese-educated counterparts, according to the newspaper report.
Many students also enroll in a US high school and plan to apply for admission to a US college to avoid taking the gaokao, China's rigorous college-entrance exam, for which six-day-a-week preparation begins in ninth grade. According to statistics from the Chinese Ministry of Education, more than 200,000 students cited "gaokao avoidance" as their primary motivation for seeking their high school education abroad, the Christian Science Monitor reported this month.
Jay Lin, academic director of Ivy Labs Education, an admissions consultancy in Beijing, told CNN.com that a growing number of parents want their children to have happier lives than they would lead by having to prepare for the gaokao. "The goal of education in (the Chinese mainland) is to prepare you to take the gaokao," Lin said. "Everything else is secondary. In China, you would put the gaokao in the center, whereas, in American education, you put the student in the center. It's not exclusively about getting into college."
The increasing presence of students from China in US middle and high schools follows record growth in the number of Chinese students attending US colleges. In the 2011-12 academic year, there were 194,029 Chinese students seeking college degrees in the US - representing the largest group of international students from a single country and accounting for 25.4 percent of all foreign students studying in the US, according to the Institute of International Education. The figure also marked a 23 percent increase from the year before and a 207 percent increase from a decade ago, the Institute said.
That trend has hit Chinese families financially. More than 60 percent of Chinese families privately pay for students' college expenses, according to the IIE. Unlike American students who are often eligible for in-state tuition breaks, financial aid and numerous scholarships, most Chinese students must foot the full bill, which could run in the neighborhood of $200,000 just for tuition and fees over four years, the Wall Street Journal reported.
High school tuition - while not as high as college tuition - also is costly.
$68,000 tuition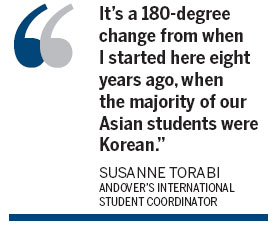 In New York, where a small but growing number of wealthy teenagers from China are attending high school, students at Leman Preparatory Academy live in high-end studio apartments in a residential tower on Wall Street, and total tuition is $68,000 per year, compared to $36,400 for non-boarders, the New York Times reported in May.
The newspaper said Lman - previously the Claremont Preparatory Academy - enrolled 27 Chinese students last fall, about one-fifth of its high school population, and 10 students from other countries. The students "are the children of Shanghai real estate magnates, shipping giants, luxury hotel owners and doctors from coastal regions bordering the East China Sea," according to the newspaper report.
Lman was purchased two years ago by Meritas, a 10-school chain with more than 12,000 students on three continents. It is not the only New York school destination for Chinese students, but it is the only one that currently houses them. At the Beekman School in Midtown Manhattan, the school's four Chinese students live with local families.
At Phillips Andover Academy in Andover, Massachusetts, 25 miles north of Boston, where 25 percent of the school's roughly 1,150 students (including 855 boarding students and 288 day students) are either Asian or Asian-American, students from China are the fastest-growing segment of that student body. Tuition at Andover is $47,000 for boarding students and $36,700 for day students.
"It's a 180-degree change from when I started here eight years ago, when the majority of our Asian students were Korean," Susanne Torabi, Andover's international student coordinator, told the Christian Science Monitor. "Back then, we had two mainland Chinese students, both of whom were on financial aid." Andover enrolled seven Chinese students last fall and is expecting 14 at the start of this school year.
In terms of the students' impact on campus, Torabi noted that "many of them are very driven, making an already competitive place even more so. They're raising the bar."
Rockford High School's Hayes said he didn't know how much tuition students from China are paying Weiming Educational Group, a Chinese private school consortium which has a partnership with Rockford Public Schools. "Our district will receive $10,000 tuition per student paid by Weiming," Hayes said. Rockford High has 2,400 students in grades 9-12 - roughly a third of the district's 8,100 students.
In addition to its five regular, full-time students from China, Rockford will have two exchange students from Japan for the 2013-14 school year, Hayes said. "We plan to expand the number (of Chinese students) to 20 for the 2014-15 school year," he said.
"In our experience, students from Asia who study at our high school typically perform very well," the Mandarin-language instructor said.
Most students who come to the US from China end up in schools on either the East or West coast, where they typically live during the school year with a host family picked by the school district, Hayes said.
The Chinese Association for International Understanding says that Chinese high school students studying abroad now represent 22.6 percent of the total number of all Chinese students studying overseas. At the China International Education Exhibition Tour in Beijing in early March, 15 percent of the nearly 400 exhibitors present represented high schools, China Daily reported.
Attracting students
Schools use various strategies to attract students. Excel Christian School, a high school in Nevada and a member of the US International Golf Academy, provides golf lessons for students - giving them a skill they can someday use to make business connections.
"Not all of them will become professionals, but golf training will bring them advantages in daily life, such as on business occasions," coach Geno Ivaldi told China Daily at the Beijing education exhibition.
Whatever the motive, Chinese students' embrace of a US high school education appears to foretell a stronger US-China relationship.
"Studying, learning and growing up together bodes well for our collective future," said Tom Watkins, a former Michigan state schools superintendent who advocates closer US-China ties. "When I was growing up, China and the US had yet to normalize relations - in both countries we were filled with propaganda about each other. Today, our children come of age together."